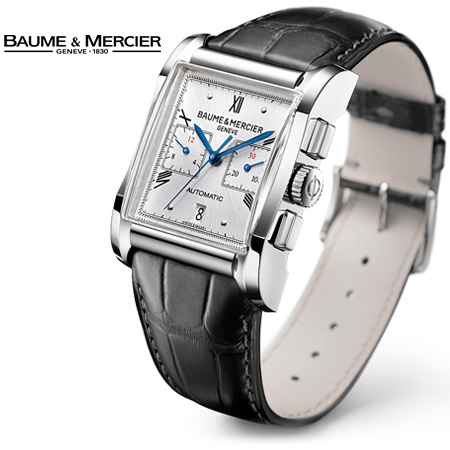 Baume & Mercier
Baume & Mercier has been creating watches for men and women for over 180 years with the notion that timepieces don't have to be for just one type of occasion, and that when it comes to watches, casual and elegant don't have to be mutually exclusive. Since 1890 they have strived to fulfill their founders' motto, "Accept only perfection; Only manufacture watches of the highest quality" and when you wear a Baume & Mercier timepiece, you can tell that they still hold that true today. Baume & Mercier believes that a watch isn't just a temporary accessory; they believe that a watch is forever and should be crafted in a way to perpetuate this ideal.
They still employ the practice of esablissage which is the traditional Swiss watchmaking art of assembling and inspecting their watches with only the highest quality components to ensure a high standard in production and ultimately, an amazing timepiece. They have taken this ancient practice and integrated modern methods to ensure that each Baume & Mercier watch is of the highest standard. By using state-of-the-art horological techniques they ensure superior craftsmanship and can rise to the challenge of creating revolutionary timepieces.
This Swiss watch brand has taken inspiration from seaside living in The Hamptons and fused it into their collection of watches making them fun and casual, yet modern and elegant. The culture is rich with authenticity, family values and an appreciation for relaxed elegance, which harbors the creation of life's moments. Baume & Mercier offers five distinct collections of men's and women's watches-- Linea, Hampton, Classima, Clifton and Capeland-- each with its own rich history and inspiration. Whether you are looking for a casual and everyday watch, a professional, yet elegant timepiece or a combination of both, Baume & Mercier has a watch for you!
Baume & Mercier Watches for Men | Baume & Mercier Watches for Women